Okay...for some reason I'm having problems wrapping my mind around the Pike & Shotte units.
From what I understand, a unit of pikemen with two sleeves of shotte is actually three units - 1 of pike and 2 of shotte. Is this correct? If so, then my pike & shotte unit is actually 3 units?! Should there be three commands?
Over on Saxon Dog's page he is showing three separate commands -
http://saxondog.blogspot.com/2011/02/warrens-slow-progress.html
. This is the first time I've seen this but it would make sense if they are three separate units.
I know Mikelands units are like this:
I base my units on an out of the box style. So 24 muskets 12 pike, 4 command, plus I have added and extra 4 pike each.
Not sure what the extra 4 pikes are for... Care to elaborate Mikeland?
He goes on to say:
I know some folk build smaller units, 16 muskets, 8-10 pike plus command. But I think the massed ranks of musket and larger pike blocks look great.
The pike & shotte units I've devised are purely based on other peoples' armies. I've seen them anywhere from 12S to 8P (6 shotte per sleeve), 16S to 16P, 24S to 16P, 24S to 24P and several other combinations.
I've posted this pic before, but it helps illustrate what I'm talking about.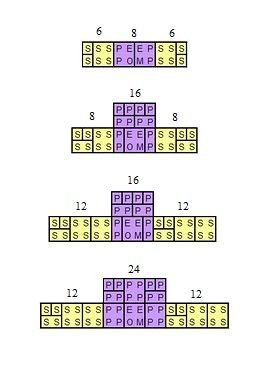 What kind of ratio of pike:shotte do you all use and why?
Also, what type of Pike & Shotte unit would have armoured pikemen - heavy? I would like to have at least one unit with armoured pikemen but I'm wondering if a unit like this needs to be balanced, you know, for every unit of armoured pikemen you need two units of unarmoured pikemen. What are your thoughts?