Ave Omnes!!!
I'm thinking about creating a "Germani Corporis Custodes" to go above and beyond the Praetorian Guard.
Following is a WIP picture: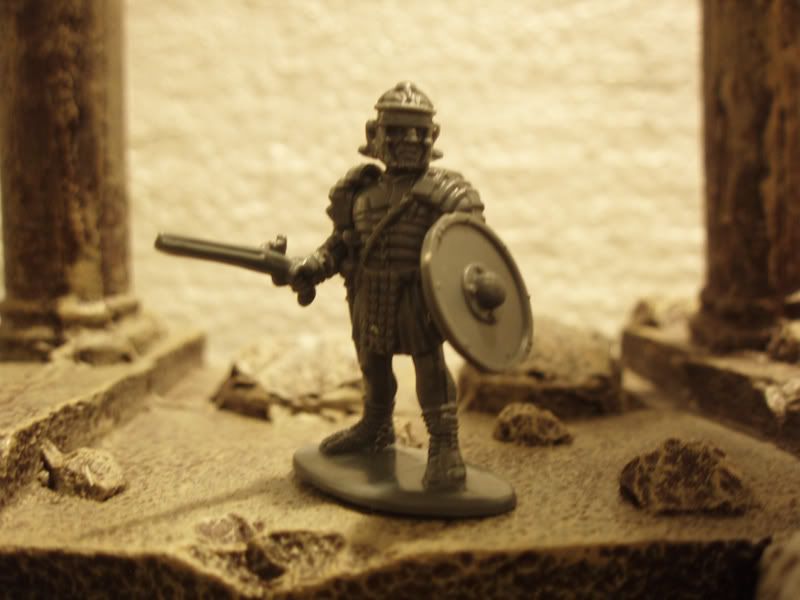 I'm wanting this group to be Roman yet leaning towards the German side. That being said I could use some help with a few items.
I know the Romans were generally shorter than the Germans, but I really want the Roman armor, so unless any of you know of a largish Roman figure.... I could convert a mini - remove the torso off a Legionary and place it on the legs of a German. Wonder if that would work?
Shield design - what would you think of black and white color scheme with a Maltese Cross?
Helmet and armor - I want to do a combo o the whole Roman/Germanic type armor. since the armor is molded on I guess I'll keep it. However, I was thinking of keeping the helmet but instead of a plum going with some sort of spike - kind of like an early version of a pickelhaube.
The unit needs to be armed with some sort of sidearm, but I really want something different, something to set them apart from the rest of the pack. I know Roman had some contact with China...I was thinking something that would have used an early version of gunpowder/black powder. If that isn't an option, perhaps some sort o pole arm with rudimentary explosive.
Thoughts....suggestions....