Hello, guys!
I've been lurking these forums here and there for a while but never was really aware that you could post pictures of minis other than WLG's. While I would love to do Pike and Shotte in 28mm I just don't have the space tablewise and I prefer the look of smaller scale minis for larger battles.
Also, back in May 2012, this project was my first serious foray into historical wargaming. I did do some historical armies as commissions before but never got into it myself because there was nobody to play with. There are some steady Flames of War groups around but by the looks of it I'm really, really not into that game's philosophy and gameplay. Overall, I'm used to painting 28mm minis, I paint a LOT of 28mm for customers so I wanted to go with something else. Always been fond of 10mm as a scale and after a first quick look at P&S I realized that I'd need a HUGE table to make it work for me in 28mm. So I went 10mm. When I see pictures of those oh so tasty 28mm minis I often drool for the detail and nice ways of painting them (got a few 28mm for TYW as well) but I'm rather happy with 10mm now.
For the background of my collection I roughly chose the Battle of Lützen simply because there's at least some info on it around and I don't need to tell you that this battle is about as dramatic as can get. I actually got someone to play historicals with which is a great blessing. Over the past four months I got to know so many new systems, it's amazing.
Anyhow, let's proceed to the pictures, shell we.
Here is the state of things in October 2012:
Imperials/Catholics
Back left to right: 2 units of cuirassiers (I think I prefer to rank them deep), Pikemen, PIkemen with "sleeves" of shot, Arquebusiers, Dragoons.
Front left to right: Croat light cavalry, swordsmen, dismounted Dragoons
Swedes/Protestants
Left to right: Pikemen of the Palatinate with sleeves of shot, light guns with limbers, "Yellow Regiment" Guard pikes with thee units of shot, unmounted dragoons in the front.
Since then here's what was added:
Medium Guns (with some crewmen converted)
Swedish Blue Regiment pike and shot
Some more Cuirassiers (without cornet as for now)
There should be a fourth unit too but I can't find the pictures at the moment.
Some more imperial musketeers:
Swedish Västgöta Cavarly:
Two more units of Imperial Pike - Austrians (left) and Spaniards(?) (right)
One word on "command figures" in pike units: I only put them in the front for photos. Usually I keep them in the middle of the unit as it should be but to denote marching column I put them to the front. Works rather well and saves me the trouble of adding another marker to the table.
Now for some officers!
I started with the Swedes, namely Ni(e)ls Brahe: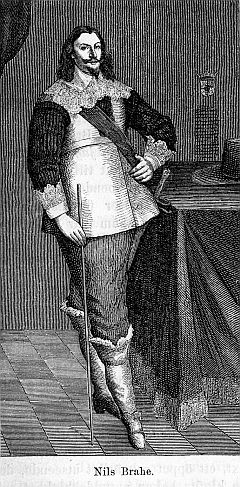 The fact that he actually wore a yellow-ish doublet at the battle is purely coincidential. Or the thing used to be white and turned yellow-ish over the centuries. (nowadays the doublet is kept at the Bielke Armoury in Sweden). He was only 28 when he was made general of infantry and commanded the first line four brigades at Lützen. Along with him on the base we got a drummer and a sergeant, both from the King's own lifeguard (as shown by the light grey uniforms).
Next up is King Gustav Adolf's third in command, the gloriously named Dodo von Innhausen und zu Knyphausen (Dodo of Innhausen and Knyphausen):
At Lützen he was the commander of the infantry center's rear line and played a big part in keeping the army together and helping the Swedes and their allies to win the day after the Swedish king got killed in battle. At this point he already was about 50 years old which at that time was quite an age, especially for officers on campaign. He was probably the oldest and most experienced high ranking officer in Gustav Adolf's army and as such was a welcome counter-pole to the hot-headed young king and his second in command Bernhard von Sachsen-Weimar. Dodo, being of old north german nobility, is also notable for never having changed sides for the whole time of his service. Keep in mind that during that time, colonels were "war entrepeneurs" and many well known figures changed sides during the course of the war. Dodo was born a Protestant and stuck to his cause, even after it didn't really mean much any more. Being employed and well regarded (and most likely well paid) by the most important representative of that cause surely didn't hurt either of course. Dodo had witnessed the crushing defeats of the Protestant armies in earlier phases of the war and was more cautious about enganging the enemy in pitched battles but was known for being daring when it mattered. The model I painted up for him wears mostly blue and yellow. Blue was somewhat of a preferred colour to wear for Protestant forces in Germany and it's a remainder of his service for "Mad" Christian of Brunswick and others whose armies, at least in large portions, were issued blue or dark blue coats. The coat of arms of the Innhausen-Knyphausens is black and yellow so these colours also play a part in his outfit. Protestant armies generally made more use of uniforms than their adversaries so the two fellas he shares his base with, a sharpshooter and again a drummer, also wear blue coats (albeit of lesser quality of course). Note how Dodo studies a map whereas all the other officers either stand and look or charge into battle, showing his more cautious and reflected approach rather than charging head-long into battle.
Speaking of "the other side", here's the first of the commanders of the armies of the holy roman empire, the one and only Field Marshal Gottfried Heinrich Count of Pappenheim:
Surely one of the most notorious commanders on the Imperial-Catholic side. Pappenheim, being dauntless in battle himself, using raiding tactics and operating behind enemy lines whilst often displaying a mind of his own which bordered insubordination, was the archetypical cavalry commander. At Lützen he basically did what the Prussians did at Waterloo except that he led his cuirassiers in a wild charge against the Swedish right flank as soon as he showed up on the battlefield, was killed and this way deprived the Imperial side of much of the momentum the arrival of his heavily armoured cavalrymen could have brought to his army's battle. Pappenheim was known to fight "with an open visor"which either meant that he fought without a helmet at all or with the helmet's visor open. This lead to several nicknames, all of which are variations of "scarface". Other than most commanders of the war, especially on the Imperial side, he wasn't an entrepeneur or manager of logistics and grand strategy but a soldier through and through. The miniature shows him as wearing a hat alongside with one of his cuirassiers (who are said to have worn these eastern-styled helmets rather than the more common German or Italian styles). He wears a big red scarf, the field sign of Wallenstein's troops at the time, along with other red and yellow details which are typical for Imperial troops. I tried to give him a colourful appearance to reflect how Imperial officers tended to look more gaudy than their Protestant counterparts.
For the fourth officer, say hello (and wave back to him if you want) to Bernhard, Duke of Saxe-Weimar:
The Saxon state and army was Sweden's most important German ally and had fought for the Protestant cause Since the very start of the war (which had started in 1618, the Swedes didn't set foot on German soil until 1630). Other than many other later or temporary allies, Saxony-Anhalt joined forces with the Swedes as soon as they showed up on stage. Bernhard, born in 1604, had fought Imperial-Catholic armies since his 18th year, first under the command of Mansfeld, lateron under the Danish King and in the Netherlands where he fought the Spanish army and studied fortification and siege engineering. [very interesting conflict there too - the 80 years war between the Netherlands and Habsburg-Spain. The very uneven power level of opponents led to hardly any battles but lots of siege stuff and the Netherlands developing the first concepts of the professional officer rather than nobles putting on their commander's hat]
Bernhard, a young and hot-headed commander, probably got along very well with the Swedish king Gustav II. Adolf and in his service quickly became the king's second in command at the age of 28. At Lützen, his first independant command, he led the left cavalry wing into battle (as by the Swedish combat doctrine, supported by units of "commanded" shot, independant musketeers who advanced along the horse to give supporting fire or cover retreats). After Gustav Adolf's death, he took over command and despite Dodo von Knyphausen's suggestions, decided not to retreat in an orderly fashion but to turn the moment of the Protestant cause's greatest loss into their greatest victory. Knyphausen, who wisely had kept the reserves outside of enemy cannon and well rested, managed to rally large parts of the retreating main battle line, Bernhard formed them into an attack force again and led the final assault against the Imperial lines.
In the combined Swedish-German Protestant army, Gustav Adolf was well regarded by both sides and respected as their commander. As victories piled up in 1631 and 1632 and the Swedish king got a bit foppish, Bernhard became an increasingly important leader figure at least for the German armies under Protestant command.
Technically, this guy should have been an Imperial commander so that I'd have an equal number of both. The problem is that the Imperial German armies had a big problem - lack of capable generals. Many of the Imperial officer corps was of Italian origin (and I plan to have a model for Piccolomini of course and possibly one for Grana) but the "big names" on the Protestant side are somewhat more appealing and easier to find information on so I went for Bernhard on this model. The raised hand makes him look really enthusiastic which fits Bernhard's character and youth. The cornet his staff officer is carrying shows a design based on one of the flags carried by Bernhard's "green" lifeguards regiment. The colours, green, yellow and black, are the ones of the traditional coat of arms of Saxony.
I'm sure I'll get called out on several details I got wrong or not quite right and so on about this little presentation. :p It's interesting stuff though (at least to me
).
To round it all off, here are a bunch of casualty markers I made:
Hope that you like everything so far. I'll keep pushing on with this project to end up with two really sizable armies and I still got so much to add. next on my list are more imperial musketeers and Swedish and Finnish cavalry. After that I think I want to do some Saxons and maybe some more cuirassiers. Oh, and I need more Harquebusiers. Those poor guys always get tossed aside even though they still were pretty darned numerous in the 1630s.
Anyway, feedback is always welcome!