Hi Guys,
Following on from more-or-less finishing my Middle Eastern city walls (at least as far as needing to do some weathering and adding some clutter), I decided I wanted to carry on and build something else scenic. At Phalanx I bought a 4Ground 'Roman Limes Watchtower' from the Warlord boys, for my 1st/2nd century Romans. I've often felt like having a typical watchtower, and had been going to scratchbuild one, but I've had my eye on this model for a bit - it looked good apart from the roof, which seemed far too flat and featureless. Anyway, looking at it at the show, it looked worth buying for the rest of the bits.
The model went together very easily, and looks pretty good. I scratchbuilt a new covering for the roof. The 'tiles' were cut out in strips from a piece of heavyweight textured paper I bought from the art shop, and glued on with white glue. The 'ridge' tiles are made of sections cut from wooden cocktail sticks of all things!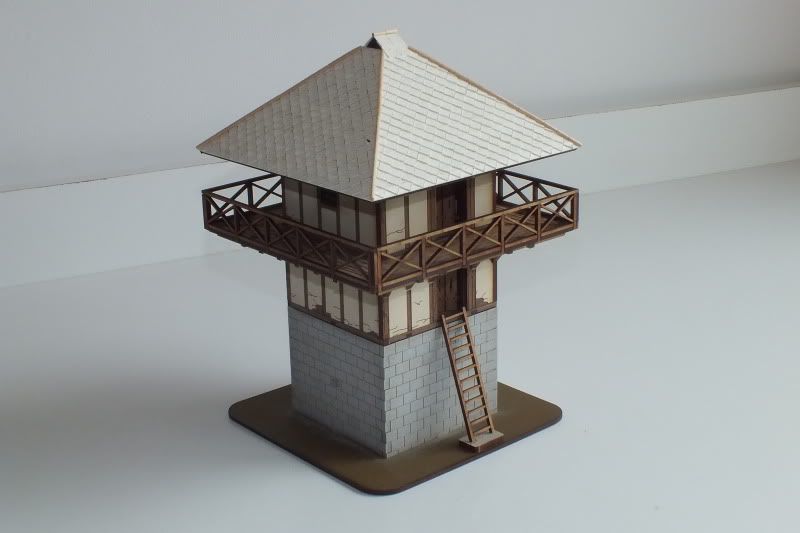 And here's the more-or-less finished item. It needs weathering, clutter, and a bank and ditch to place around it, but is otherwise finished. I've done a bit of extra detail painting, and may yet do more. It's 'modular' (so you can place figures inside!), and that means it's easy to carry on and do more work on at a later date.
Cheers,
Phil